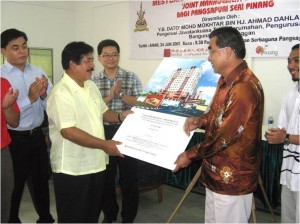 On 24th June 2007, it marks the notable moment for Fernpark Development Sdn Bhd (currently known as Tapak Realty Sdn Bhd), the property development company under Tapak Group in its history, whereby its first flagship project – Pangsapuri Seri Pinang in Seri Kembangan was the first hi-rise residential in Selangor and Malaysia to form the Joint Management Body (JMB), the new regulation under the Building and Common Property (Maintenance and Management) Act 2001 (Act 663) imposed by the Government in April 2007.
Under the Act, all developers were given one-year period to form JMB committees with the property owners at hi-rise residential & commercial to ensure proper managing of the properties before strata titles are obtained.
As a trustable developer for local neighbourhood, we perform our responsibilities to form the JMB with the tenants and owners promptly. There were about 100 qualified homeowners and tenants attended the event and the first batch of Joint Management Committee (JMC) was formed and elected on the same day.